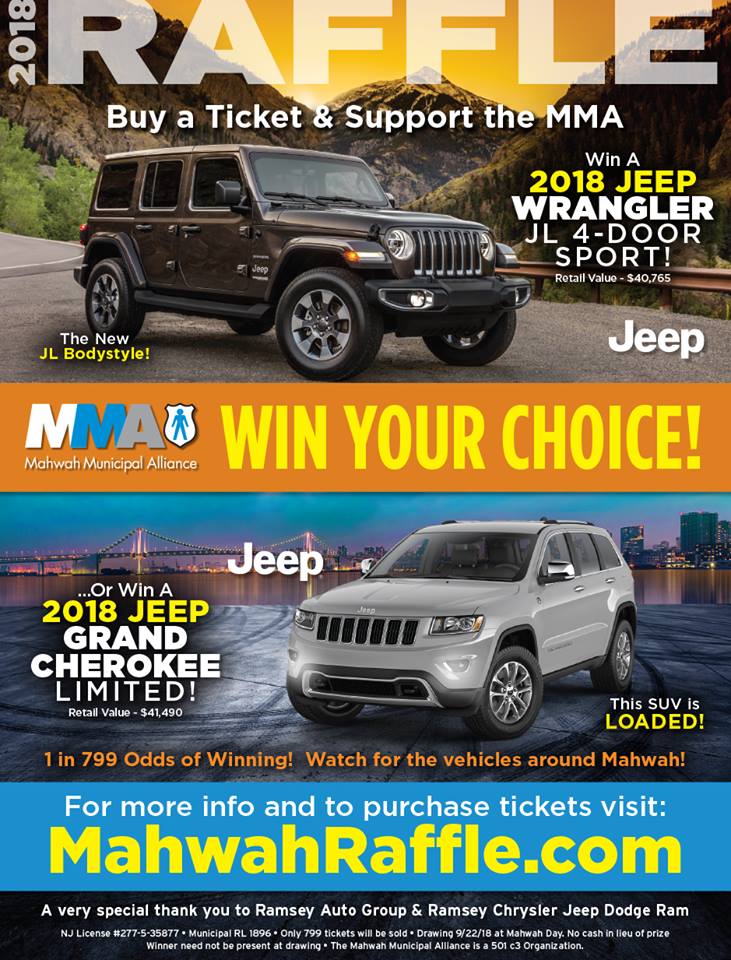 For the past couple of years, we've supported the Mahwah Municipal Alliance (MMA) by giving them vehicles to offer up as prizes while benefiting their cause. This year, we're providing 2 different new Jeep models!
You can buy a ticket with 1 in 799 odds of winning* either a new 4-door 2018 Jeep Wrangler JL Sport or a 2018 Jeep Grand Cherokee Limited. Which one can you win? It's your choice!
The drawing will take place at 3 pm during Mahwah Day, which takes place Saturday September 22nd at Commodore Perry Field (79 E. Ramapo Ave).
Tickets cost $100 each and there's no limit to how many tickets you purchase, although they will only be selling 799. All ticket money will go to support the numerous programs the MMA offers that focus on:
The Heroin Epidemic
Drug & alcohol abuse
Fitness & health
Bullying
Mental health & depression
Parenting
Junior Police Academy
Youth Leadership Academy
Buy Your MMA Raffle Ticket Now
?
2018 Jeep Wrangler JL Sport
Offering a brand-new design compared to its predecessor, the 2018 Jeep Wrangler JL Sport sets the new standard for the off-roading SUV. Among the features included in this prize choice are:
3.6L Pentastar V6
Rear backup camera
Push button start
Wash-out interior with removable carpet & drain plugs made for big messes
8-speaker audio system with a USB port
Hill start assist
And much more!
Learn More About the Jeep Wrangler JL

2018 Jeep Grand Cherokee Limited
As one of the most popular models of the most-awarded SUV ever, the 2018 Jeep Grand Cherokee Limited doesn't limit you to the comfort you feel inside and the convenience you can get. Among the features offered on this model are:
3.6L Pentastar V6
Leather heated seating & steering wheel
Bluetooth
Remote start
Remote Keyless Enter 'n Go
Push button ignition
Aluminum rims
And much more!
Learn More About the Jeep Grand Cherokee
A minimum of 425 tickets must be sold. If this minimum is not met all ticket money will be refunded. Winner need not be present. No substitutions of the offered prize may be made and no cash prize will be given in lieu of prize. Winner shall accept all responsibility for all taxes, fees and costs associated with the prize. Please check with your tax provider on regulations regarding tax deductions to not for profit organizations.