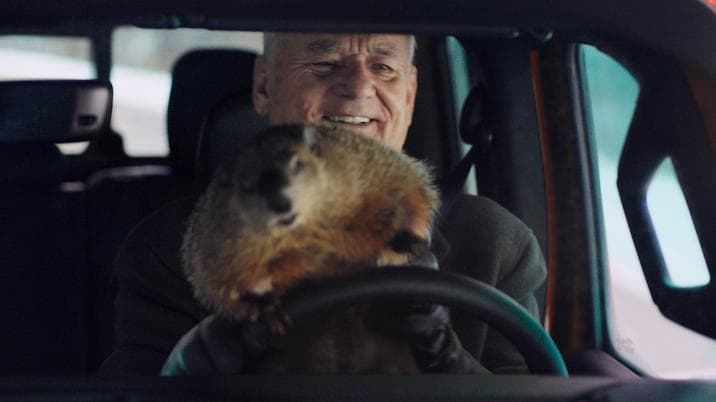 ​
People watch the biggest football game of the year on the first Sunday in February for 3 reasons: to see the last game of football of the season, to enjoy a good time with friends/family/strangers & to watch the commercials. And we know that this year's Jeep ad surely turned heads.
That's because it took a fan-favorite movie, Groundhog Day, and gave a modern spin on it. It took advantage of the fact that it was only the 2nd time 54 years that the Big Game fell on Groundhog Day by putting the film's star Bill Murray center stage in his first and according to him only commercial ever.
It's like watching the events of Groundhog Day unfold, except Bill Murray's character news anchor Phil Connors spots a 2020 Jeep Gladiator Rubicon and drives off in it with America's favorite groundhog Punxsutawney Phil for a day of fun that repeats on and on.
Though there are some new elements to the commercial, there are ones that you remember from the film including actors Stephen Tobolowsky & Brian Doyle Murray reprising their respective roles of "old friend" Ned Ryerson & Punxsutawney's own Buster Green and the movie's memorable B&B, restaurant & town square.
Not to mention the alarm clock waking Phil Connors up at 6 am every morning with the tune of "I Got You Babe" by Sonny & Cher.
Video: Jeep's 2020 Big Game Commercial
Did you know that the bike ridden by Phil Connors & Punxsutawney Phil during the commercial is actually the all-new Jeep e-Bike powered by QuietKat, which is set to be available in June? And did you know that you can purchase Big Game ad-inspired merchandise here like shirts, hats & stuffed animals?
Ramsey Chrysler Jeep Dodge Ram is proud to have the 2020 Jeep Gladiator Rubicon & other models of this popular pickup truck in stock, so check out our inventory & come on in to see why Bill Murray had such fun driving one!