The 2018 Dodge Challenger SRT Demon has made its long-awaited debut at the New York International Auto Show and it's even more powerful than we thought!
In fact, the Dodge Demon so powerful that the National Hot Rod Association (NHRA) has banned the muscle car from being in competition because of its speed. Thankfully, it's not banned from the streets of North New Jersey!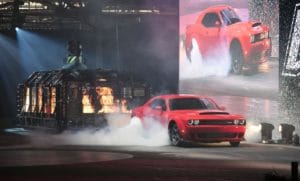 That's because the 2018 Dodge Challenger SRT Demon delivers an astonishing 840 horsepower and 770 lb/ft of torque from its supercharged 6.2L HEMI Demon V8 engine.
If those numbers are impressive, you'll be amazed by these:
1.0-second 0-30 mph time
2.3-second 0-60 mph time
9.65-second quarter-mile at 140 mph
1.8-g g-force acceleration
2.92-ft wheelie from a standing start (Guinness World Record)
45.2" functional hood scoop that's the largest of any production car
2018 Dodge Demon Performance Features
Engine
First things first, let's talk about the components used in the 6.2L HEMI Demon V8. The engine uses upgrades such as:
Larger 2.7L-per-rev supercharger that offers 14.5-psi boost pressure
Higher rpm limit of 6,500 to accommodate the increased torque
SRT Power Chiller™ & After-Run Chiller to keep air intake up to 45°F cooler
Speaking of air, the Air-Grabber™ hood, driver-side Air-Catcher™ headlamp and an inlet near the wheel liner are the are the 3 sources of intake air that the larger induction air box provides.
Acceleration
We know that you'll want to test the limits of the 2018 Dodge Challenger SRT Demon, so you'll love that there are several production cars firsts onboard including TransBrake that makes your launches quicker & more powerful by locking the output shaft of the TorqueFlite 8-speed automatic transmission. Torque Reserve delivers fast acceleration by boosting the airflow & supercharger rpm before launch.
Drag Mode Launch Assist helps by increasing traction to prevent wheel hop during launch on the Nitto NT05R street-legal drag-race tires. The onboard Drag Mode suspension tuning maximizes the transference of weight to the rear wheel to improve traction even after acceleration.
Customize Your Drive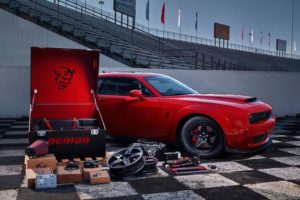 ?Besides the SRT Demon-exclusive Drag Mode, you can also choose from Auto (Street) Mode that's designed for driving around town or highways like the Turnpike, I-287 and the Parkway. Custom Mode lets you combine elements from both Drag and Auto Modes for the perfect ride for your drive.
There are a few unique available features that help improve vehicle performance. They are:
Direct Connection engine controller that's calibrated for 100+ unleaded high-octane fuel
The ability to remove front passenger seat for weight reduction or added storage space
Demon Crate that gives you performance parts for the drag strip and personalization with your name, VIN & serial #
The 2018 Dodge Challenger SRT Demon will be available in 14 exterior colors to personalize your performance driving experience. And you'll get 1 full-day session at Bob Bondurant School of High-performance Driving if you choose this powerful muscle car.
There will only be 3,000 of these unique Dodge Challenger models coming to the US, so contact us today to learn even more about the Demon and how you can get it from our Bergen County NJ dealership location!